[Option 1]
Own The Entire Collection
Save $90

When You Buy The Collection
---
• Get 4 preset packs and the retouching toolkit
• Includes Modern, Pastel, Crush and Mood Packs
• Includes The Black and White Mixer (10 One-click Presets, 25+ Mixology Presets)
• Includes 47 retouching brushes and 26 tools
• These 5 tools combined give you a powerful, versatile set of creative tools.
• Explore different creative styles & cater to your clients' diverse tastes.

We've aligned the tones of our 4 packs, called Modern, Pastel, Crush, and Mood, with the 4 major styles of photo editing for portrait and wedding photography. So whether your photo project, your scene, or your creative intuition calls for dark and moody (Mood), light and airy (Pastel), warm and vibrant (Modern), or vivid and bold (Crush), these 4 preset packs will suit all of your needs.
$570
$480
[Option 2]
Combine 1 Pack with the Retouching Toolkit
Save $15 Each

When You Buy 2 or More Packs
---
Another common option is combining a single pack with the retouching toolkit. The retouching toolkit unlocks 47 powerful brushes and tools for retouching skin, dodging and burning, sky enhancement and more. Combined with a preset pack that best matches your style, the bundles present full solutions for fast, powerful image editing.
---
Modern Preset Pack + Retouching Tookit Bundle
The Modern Pack gives you a warm, vibrant, and natural look. As the first pack released, this style can be described as clean, editorial, and timeless, with colors that are true to the scene but just enhanced and warmed up.
Special Pricing: $160 ($190)
Click Here to Purchase the Modern + Retouch Bundle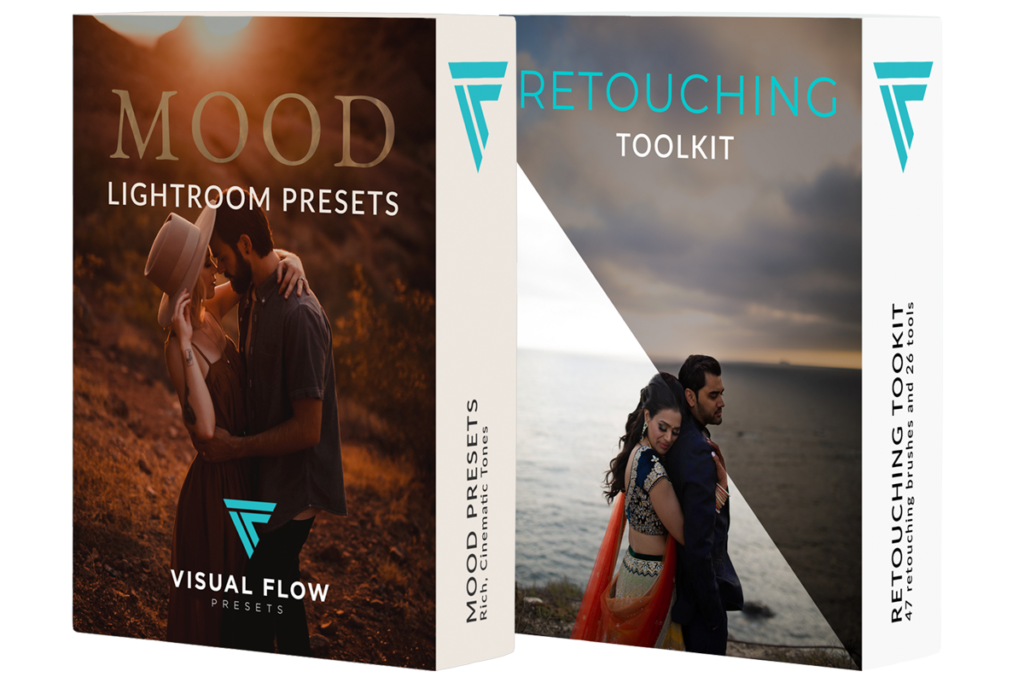 Mood Preset Pack + Retouching Toolkit bundle
The Mood Pack features a warm cinematic look with a subtle matte finish in the shadows and highlights. It's designed to create an earthy and organic look to your imagery. It works for almost any type of photography, but it is stylistically most fitting of adventure, wanderlust, or elopement style photography.
Special Pricing: $160 ($190)
Click Here to Purchase the Mood + Retouch Bundle
Crush Preset Pack + Retouching Toolkit bundle
Crush preserves the color and texture of skin tones while punching up the other colors in the scene, delivering intense blues for stunning results. Crush is especially fitting for wide, environmental portraits.
Special Pricing: $160 ($190)
Click Here to Purchase the Crush + Retouch Bundle
Pastel Preset Pack + Retouching Toolkit bundle
The pastel pack is light and airy film emulation inspired by Fuji 400h and adapted to ALL lighting conditions. The look can be described as soft, filmic, bright, and romantic.
Special Pricing: $160 ($190)
Click Here to Purchase the Pastel + Retouch Bundle
---
[Option 3]
Mix and Match
We also have community members mix and match preset packs to suit their style and creative interests.
Remember, the price reduction works for ANY 2 products.
We suggest that you start with the style that most closely matches your current style. That way, you are already familiar with how to shoot for that style, and you can use the preset purchase to help refine the look and speed up the process.
Next, add to your style with another pack. Try something new, something you've always been curious about. Maybe it's the light and airy style of Pastel or the dark and moody style of the Mood pack. Use your additional packs to continually learn, explore, and grow as an artist.
The route for most of our community members is to start with Modern and explore from there. We hope that helps!
Photographers Love Visual Flow
From the beginners to leading pros with decades of experience
---
"Your new presets are the most usable workflow presets I have ever used, great work."

"This has made my workflow so much quicker. I almost feel like I must be doing something wrong. It's way too quick. Saturday's wedding is almost complete."
"I just love being able to get that bright and airy look inspired by those pastel colours with a film sort of vibe, all in just about one click using the Pastel Pack from Visual Flow. Best of all this preset is easy to use and helps you preserve the skin tones in your images too."
"I jumped on the package yesterday to see just how good it was. I was totally blown away! Within 15 minutes I had the photos where I wanted them to be, and I spent less than 2 hours doing the retouching work, in lightroom, rather than photoshop. It has already made such a huge difference to my workflow."